Hello cyber people! Sorry I haven't been telling you my tales for a little while, and I know how distraught you must be due to me absence, due to school being very busy this week I have not been able to give you the musings you so sorely need!
Anyway, the big exciting news is..... I have two new siamese kittens within my household - Merlin & Mim (Yes of "Sword in the Stone" Fame :D) My parents brought them home after they decided that home just wasn't home without the yowlings of siamese cats (anyone who has ever come into contact with a siamese will know what i mean) after our lifelong family pet Minnie sadly had to be put to sleep recently. They are just adorable and I cannot wait to discover their personalities :)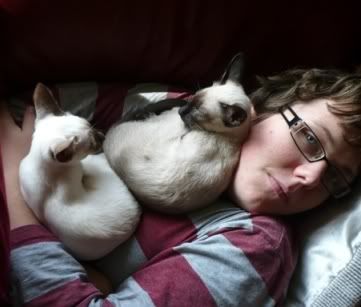 Well I do have lots of other news but I'm trying to ration it a bit for the inevitable in a few days when nothing will have happened. So I'll leave you with the exciting news that I HAVE KITTENS!! (Well coming up to five months old anyway) and that school particularly English has swallowed up plenty of time! Although Jane Eyre is proving to be a really good book!
Here's some Goldfrapp for you to enjoy! xxxx