I'm back to the usual format for this post, no more of that crazy literature for a while, it's habit forming and is shown to affect your brain!
Right so I went to see Evita in Cardiff on Saturday and got some Christmas Prezzies such as these Mondrian inspired Vans for me!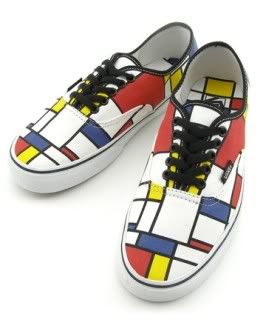 Evita was fantastic, especially the actress playing the title role and the dancing was incredible, it really is a show worth seeing, and I had a lovely meal beforehand at the new city centre
Wagamama
which as always does lovely food but does seem a bit clinical, maybe it will be nicer when business picks up however it seems like a great place for a nice lunch.
Rehearsals have been FRANTIC for Guys and Dolls and I think we're finally going to be ready to perform on Tuesday, but this show has been sooo stressful and we've been more behind in rehearsals than we ever have in the past, I just hope enough people turn up to see it as ticket sales have been awful.... FINGERS CROSSED!
Me and my friend
Harriet
have been writing sketches for our comedy project with our friend Amy and we're really excited about that, hopefully if we stick to it we'll have something solid to put online and hopefully perform round Cardiff in the near future!
We also went to the AMAZING Cardiff Vintage Fashion Fair with our friend Stephen and had a smashing time and we each picked up some gems! And we had a right spiffing time on the Winter Wonderland Carousel as you can see! ahahaha
Well I'm off now, gonna have Chinese tonight for my Bro's Birthday which was actually yesterday. Oooh and if you wondering what the lookbook thing is on the right of the screen then it's a wiget for this really amazing fashion site
Lookbook
Byeeeee!